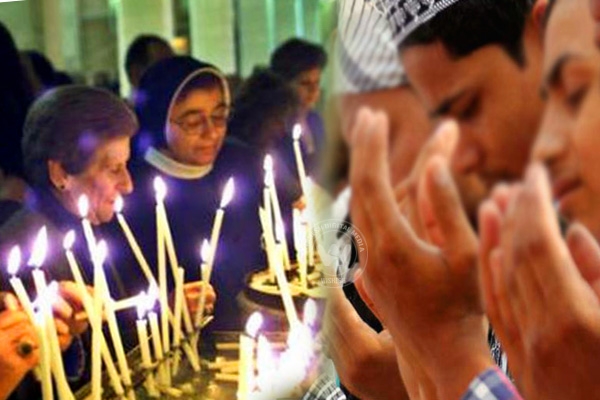 (Image source from: Christian and Muslim population to be nearer by 2050})
Pew Research Center's new projection, released shows the map of global faith and traditions and how they're likely to shift by 2050. The report does not say anything about believers' level of devotion or practice. "Demographics are an underappreciated force that is shifting the contours of faith," said Conrad Hackett, the Pew demographer who led the six-year study. Hackett analyzed projected changes for Christians, Muslims, Jews, Hindus, Buddhists, folk religions, other minority religions and the unaffiliated. The Pew Research Center doesn't delve into political forecasting, but readers of the report's projections from 2010 to 2050 might feel a thumb press down on many sore spots and raise questions beyond the scope of Pew's data.
The major findings are:
1. As of 2010, Christianity was by far the world's largest religion, with an estimated 2.2 billion adherents, nearly a third of the Earth's 6.9 billion people. Islam came in second, with 1.6 billion adherents, or 23 percent of the global population.
2. By 2050, there will be near parity between Muslims (2.8 billion, or 30 percent of the population) and Christians (2.9 billion, or 31 percent), possibly for the first time in history.
3. Muslim numbers will surpass Christians after 2070.
4. In the U.S., Christians will decline, from more than three-quarters of the population (78.3 percent) in 2010 to two-thirds (66.4 percent) in 2050. Religious "churn" — people leaving their childhood faith for a different faith or none at all — is the primary driver of change.
5. Muslim share of the U.S. population is projected to climb to 2.1 percent, up from less than 1 percent today.
6. Jews will fall from 1.8 percent to 1.4 percent.
7. Muslims rise in population as the percentage of people in Europe who are Muslim climbs to 10.2 percent, up from today's 5.9 percent. Hackett said. "It's a very visible change: More people wearing veils, more behaving in culturally distinct ways."
8. Muslims will outpace Jews as the country's third-largest group, after Christians and the unaffiliated.
The report, sponsored by the Pew-Templeton Global Religious Futures project, offers many more head-spinning numbers and a religion-by-religion, region-by-region analysis of data from 198 countries and territories, representing nearly the entire world's population. "No one has done anything like this before, so we had no idea about the big picture," said Hackett.
"If Chinese authorities allow greater freedom of religion, the share of unaffiliated in the world population could shrink even more dramatically than the report predicts," said Ariela Keysar, associate director of the Institute for the Study of Secularism in Society and Culture.

By Premji